Danko Jones and his eponymous rock trio will be performing at Highfield Festival and other venues in 2019. We're more than happy that the Canadian Rock legend found the time for a phone interview to chat about his upcoming gigs (more on that below), the band's new album and what it's like to be on the road almost constantly for about 20 years. For people who know what their shows feel like, it may come as a surprise that the spark for all this energy seems to be kindled in moments of stillness.
Danko, thanks for taking the time. You and us have some history. It'll be your fourth time at Highfield Festival. Is there a memory about our festival that pops into your head?
Sure! I think the first time we played at Highfield we played alongside CKY. I remember Highfield as the festival we met those guys. We just finished a tour with them last year and I am still in contact with them, especially Jess Margera. Our first gig at Highfield was in 2006 – good times!
When I think about your latest album "A Rock Supreme", the first words that come into my mind are "energy" and "live performance". In your opinion, what sets your music apart, what is its most important asset?
Honestly, I don't know. I mean, I just like to write catchy Rock songs. I don't really give it any sort of extra weight other than the fact that it is thrilling to myself because it's our music. I really don't know how other people perceive it, but that's what I like about it.
What do you like better? Making records or being on the road?
Making records allows you to be in one place for a longer period of time. You know, being on the road now for about 20 years, in constant movement, can get on your nerves even though we've been doing it for so long and should be used to it. A lot of bands complain about being at home and want to get back on the road, but that's probably because they haven't been doing it for this long and it's new to them. You know, once you've been in constant movement for almost 20 years, you relish the silence and stillness. Both aspects are creative in their own way, but it really is a creative bomb if you're making a record, which feels great.
So for me, yeah, I enjoy that a lot. Especially to experience the birth of songs in front of your ears and eyes. Watching that come to fruition is exciting. But that doesn't compare to stepping on stage in front of tens of thousands of people. That's also quite a shock to the system, in a good way! So yeah, even though being on the road can be hard, you do it for the times you get to step on stage. All in all, pros and cons equal out in a sense, but I do really value the stillness.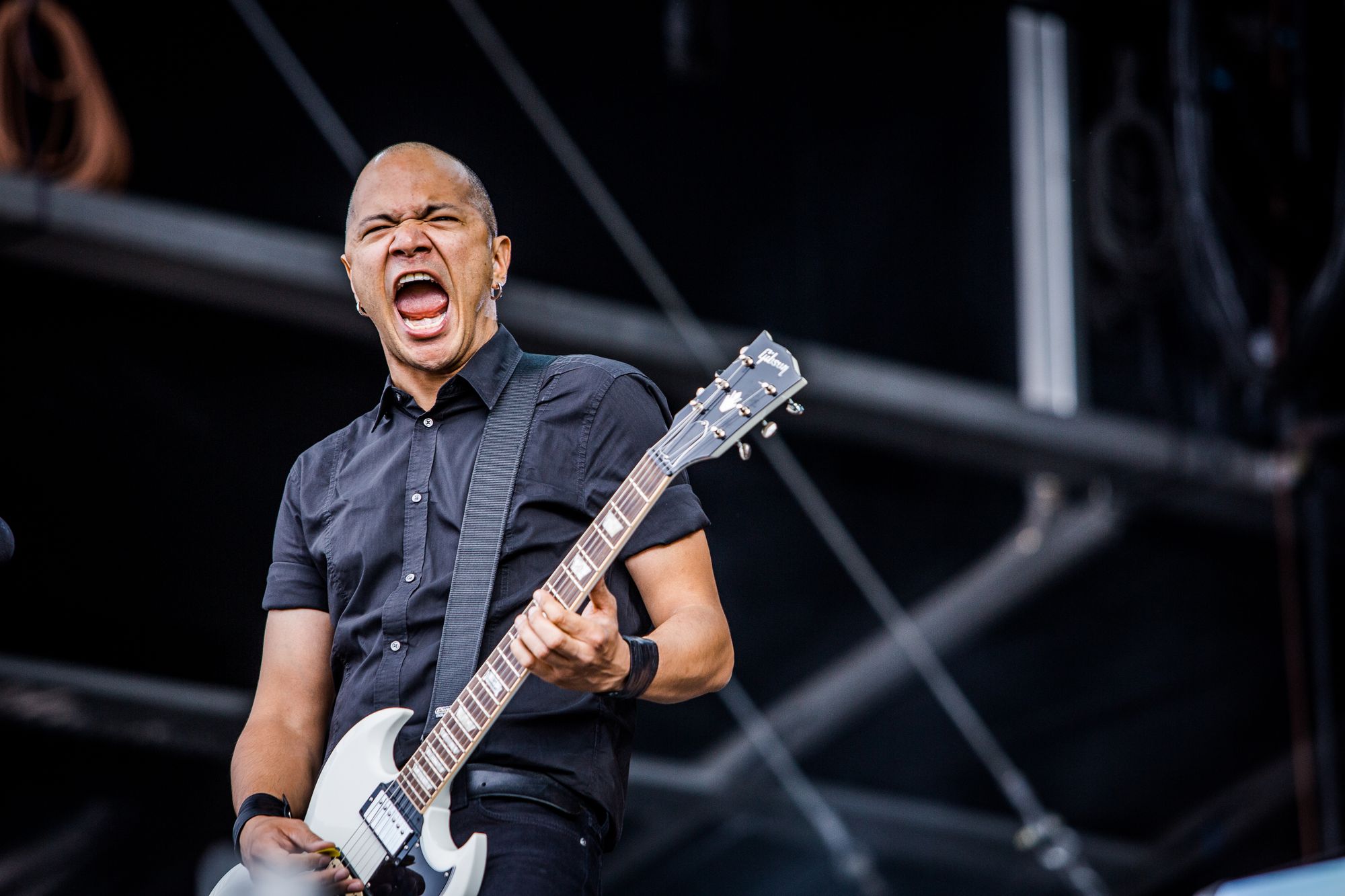 And I guess you need those periods of stillness to be ready for the stage again. You already told us a little about the process of songwriting. Can you describe this process, for example where you start, what serves as inspiration and how you go about finalizing them in the studio?
It starts very simply, and I think the whole process is simple. These days, most songs start with a riff recorded on my iPhone – before, it was a cassette player. Time moves on, but things stay the same, I guess. So maybe I write ten riffs, but we select only three or four, and out of those three or four we might only pick one or two which may be in a song. But then, out of all the songs only a few will be chosen. So the whole thing is a selective process and, you know, sometimes the riffs you like don't make the final cut, or even whole songs. That's basically it. It starts with a riff and turns into a loose jam session. But it's very hard to describe the qualities of what catches your ear.
I think it's two senses trying to communicate, you just instinctually know when a riff sounds great to your ear or if a beat catches your ear in a way that it usually doesn't. On the other hand, some songs just sound "stock", which is a word we use as well. It sounds like another band would have written it. That's also indescribable, because the three of us just know if it sounds too cliché or "stock". It sounds like a Rock band, it looks like a Rock band, but something about it just doesn't really give it a unique twist. And that is what we're always searching for when we're writing songs. This is so intangible and indescribable, but yet so simple. All the ears in the room would hear this and understand instinctually that that's a great and catchy riff. And really, "catchy" is one of the words that can be used to describe what we're searching for when we write songs, but even that is not exactly the word to use. It's catchiness and uniqueness we're striving for. The genre of Rock music is an often-used and old form of music, we pretty much heard all the riffs. So sometimes it's also about what kind of riffs we're using and what songs we're referencing that makes our music unique.
I get that, it also gives your songs another layer of meaning, right? The people who understand those references can relate to or interpret them.
They can, and for people who don't know those records, even better! (laughs) For us at least!
So it would be fair to say that those catchy riffs are the center of your music and that you build everything around them, right?
Exactly.
We'll be able to listen to your latest licks at Highfield this year. Is there anything you want to let your fans know in advance? Now's the time!
Simple: They should just come. This is why we do this: To play in front of people. So there's no reason to bring anything other than themselves. We will only come prepared with our songs, and that should be enough to make a good Rock show. That is what our band is about since day one: Maximum output with minimum setup.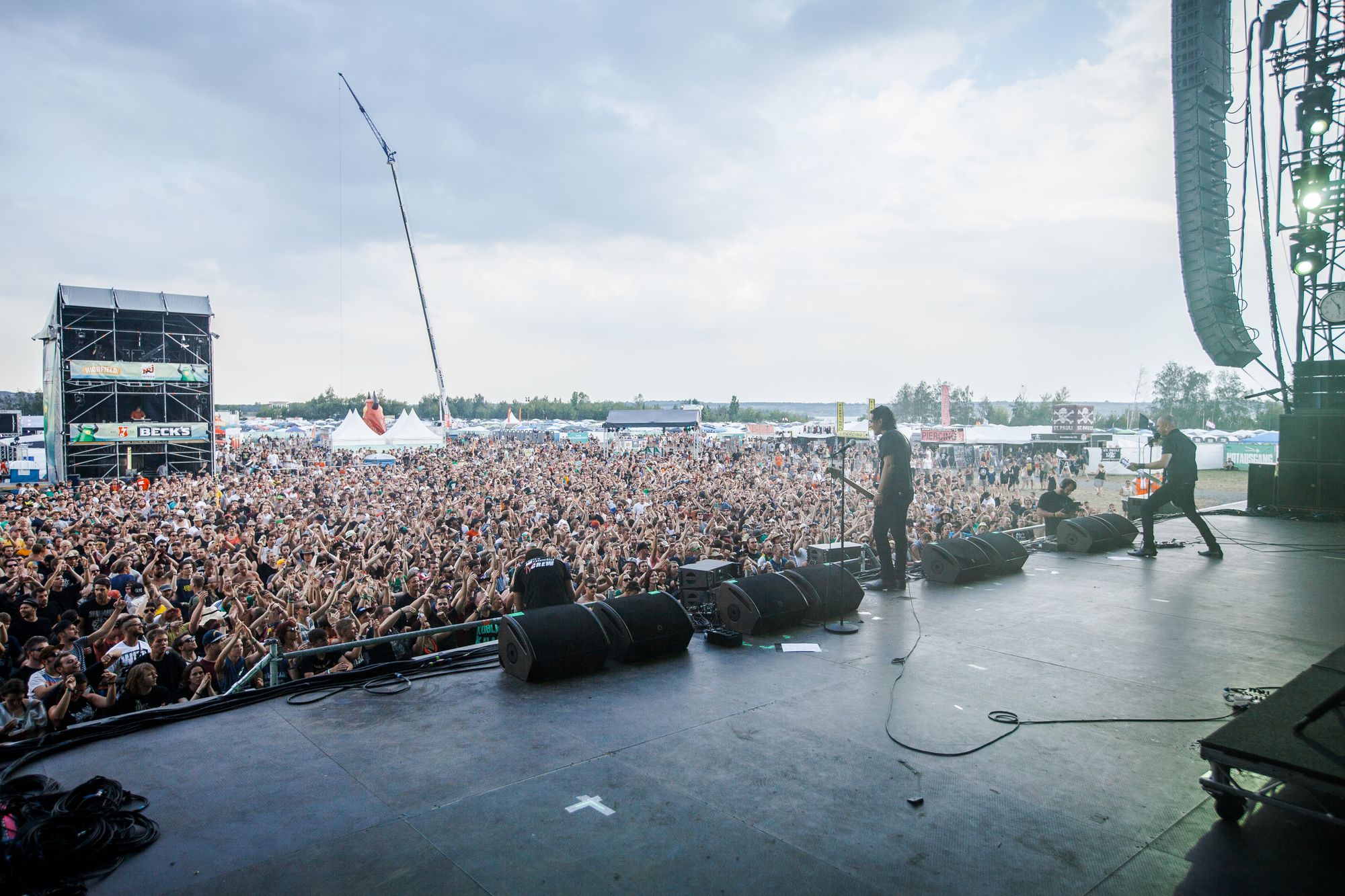 That's certainly a good attitude. And I'm sure it'll work at Highfield, your shows were always sure to really get the crowd moving. But you're also very busy off-stage, apart from your new record, you host your own podcast and recently published a book! From your contributions to numerous music magazines I know you're an avid writer. So the title "I've got something to say" seems to have been the right pick.
Yeah, I'm glad to have found the time to put away my guitar for a bit to write this. The book contains my thoughts and experiences about music in general, and also what it's like to be a touring musician for such a long time. Maybe unlike my music, the essays in the book are lighthearted and playful. I'm a Rock musician, but I am also a huge fan of this kind of music. That's why I wrote this book.
Danko, thanks for those insights. We'll be waiting for you at Highfield 2019.
My pleasure, thanks.
---
Neugierig geworden? An folgenden Terminen bringen wir Danko Jones im November außerdem nach Deutschland:
02.11.2019 Erlangen - E-Werk
06.11.2019 Karlsruhe - Substage
13.11.2019 Lingen - Alter Schlachthof
20.11.2019 Bremen - Modernes
21.11.2019 Dresden - Tante Ju
22.11.2019 Kiel - Max